Post by antoniofp45 on May 17, 2012 16:33:43 GMT -8
Hello Crew,
Recently I visited the
Suncoast Model Railroad Club
to bring over samples of HO passenger cars that I metalized with Alclad2 in various finishes. Great group of welcoming, friendly modelers. My wife and I took over 40 photos. Below are some of the better shots.
My apologies since the photo quality isn't outstanding as they were taken with an Apple Tablet
(or whatever that thing is called)
. Picks up florescent lighting rather oddly. My reliable camera's batteries went "kaputz" earlier (talk about timing!).
The members present understood that I was a volunteer tester for Alclad2 and that Tony Hipp is in the process of gathering feedback from passenger train modelers before releasing the new easy-to-use formulas onto the market. I requested that the group be blunt about the finishes. My wife also recorded the verbal comments from the club's membership. The responses were positive and constructive; especially from the club's president, who is knowledgeable about prototype passenger equipment and operations. I forwarded the responses from the group to Tony. His idea is to keep this as simple and user friendly as possible.
Although there are variables in real life, for this there are 4 BASIC categories:
A. New/Restored Appearance: Excellent condition. 1 to 5 years average age. High Reflectivity. Dark SS tone.
B. Moderate Age/Wear Appearance: Very Good/ Well Maintained Condition. 5 to 15 year average age range; Good to Moderate Reflectivity. Medium to Dark SS tone.
C. Aged Appearance: Generally clean; but worn SS surface that has lightened in color. Moderate Reflectivity. Light SS tone.
D. Neglected Appearance: Faded surface; Low SS reflectivity. Light SS tone.
I have Categories A thru C represented. There is much more detail but that's putting it simply.
--------------------------------------------------------------------------------------------------
The Apple Tablet has no flash, so florescent lighting can cast some odd effects.
This "Riv" coach was donated to the Club. I refinished it into Category B: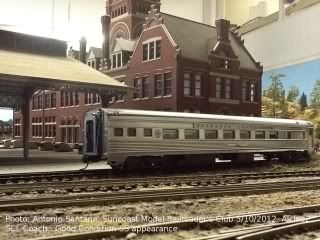 Interestingly, the units I had refinished in Category B were the most liked. I based that finish on several photos from rail photographer/modeler
Stan Jackowski
and
Jason Shron
of Rapido, both who very graciously allowed me to use their photos as reference, as well as my research into #7 and #8 prototype reflective stainless steel finishes. Here is a comparison between an SCL prototype photographed by Stan and the Category B coach (outdoor photo) I refinished for the club: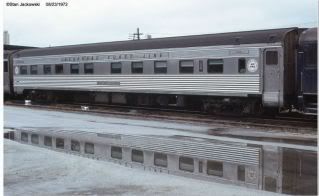 These two Riv units are Category C while the Riv coach and Walthers diner are in Categories B & A, respectively:
Contrasts: Rivarossi Diner: Category C
..........................
Rivarossi Coach: Category B
Shots of the SCL streamliner headed by ex-ACL E6A "race horse" #502.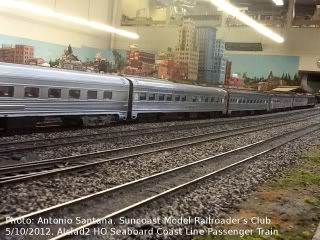 Here are a couple of shots with one of Stan Jackowski's beautiful El Capitan units parked next to the SCL train, then coupled on to the train's diner.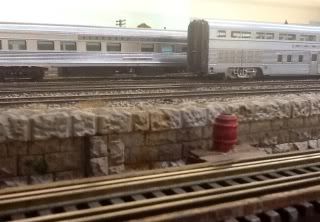 There are more photos but I plan on using my camera for better photos next time. I did not weather the bodies as my intent was to show the actual finishes.
Please keep in mind that this is not intended to compete with Walthers and Rapido, but rather to complement them as an option for modelers wanting to build up their own "Steel Fleets".
The intent is to bring passenger car modeling to a higher, more realistic and enjoyable level.
Please remember that SS finishes vary on prototypes, even within the same manufacturer. It's OK to run multiple finishes within the same train, but the choice is always yours. Also remember that SS finishes vary on prototypes, even within the same manufacturer. Cool factor is that you choose your finish.
Here's a nice example from David Graham. Look at the two Budds:
----------------------------------------------------------------------------------------------------I owe a lot of "Thank Yous" to the Suncoast Model Railroader's Club's membership and president, Jim Langston, for willing to help out in this and for allowing me to display the units on the club's beautiful layout. Super group of guys and Thanks again to Stan Jackowski and Jason Shron. Also to the Tampa Bay Railroad Prototype Modeler's Group for their input during their last gathering.