Post by djh4d on Sept 5, 2014 19:00:39 GMT -8
Evening gentlemen. I got enough school work done. So now it's time to knock out some models.
Current project is CSX 2729
Started out as a unnumbered GP38. It got numbered and a white roof. I also removed the duel decoder that came with it and replaced it with a TCS T4-LED. I like TCS because the resisters are already built in. No need to install resisters.
Now, it needs some better headlights and ditch lights.
CSX 2729 has the CSX style slanted ditch lights. I got some from Custom Finishing and they come in a package like this:
I remove the lights with a simple pair of dikes:
Using a file, I filed a nice flat bottom for the ditch lights. I know some folks like leaving a stud so it adds strength to the ditch light. I don't and I've never had one break off (knock on wood).
I then drill out the lenses. I can't remember exactly what size drill bit I use, but there needs to be a small lip for the lens later. Don't forget to clean up the back with the file.
Now I start getting the LEDs ready. I use MONSTER LEDs. Not promoting, I'm just a satisfied customer. I always painted the sides of the LEDs so the light doesn't shine through the housing. It's not important with Custom Finishing ditch lights, but required if I use Detail Associates plastic ditch lights.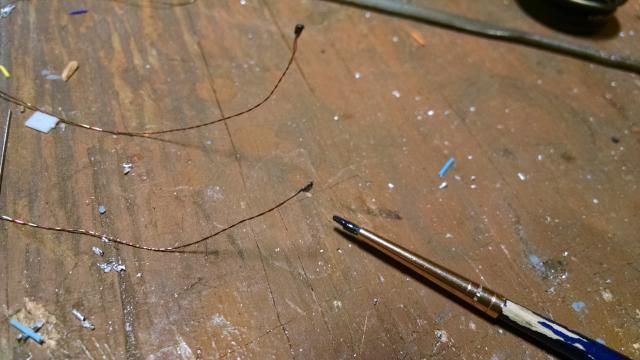 You can see that the face of the LED does not have any paint on it and that's what I want.
I put a drop of gel super around the hole on the back of the ditch light and install the LED. Remember to check the front to be sure the the LED is square and facing out. Sometimes it can appear straight until you look straight at it and see it's pointed to one side. Once that's done, I seal it with liquid masking tape so no light will shine out the back.
That's it for tonight, the alcohol is starting to set in and I want to be sure everything dries. This thread may not be for everybody, but having information out there always helps. Feel free to ask any questions or contribute how you do it.
-Dave